Welcome to Touch Alaska's Online Store
Barrow, Alaska - Our Tales to Tell is a captivating, educational documentary about life in the most northern community in the United States, where hundreds of miles above the Arctic Circle, the Iñupiaq people have survived and thrived.
Local narrators Fannie Akpik and Brad Weyiouanna take us on a journey to Barrow and Alaska's North Slope, where subsistence whaling and artistic traditions centuries old remain at the center of life in a very modern world.
Featuring: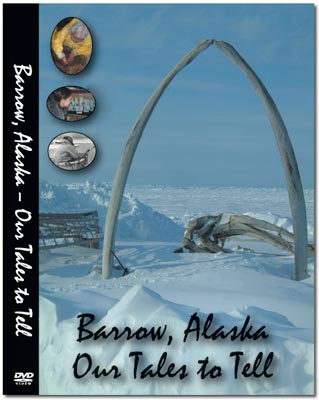 The Subsistence Way of Life - Celebrating a Whaling Culture

The Kannik crew making an umiaq, or skin whaling boat

Alaska's Arctic Science City
An Introduction to the Iñupiat Heritage Center
How People Work, Live and Study in the Harshest of Environments
Local Craftspeople creating Traditional Artwork and exploring new avenues of Creativity

Interviews with artists Wendell Brower, Thomas Coates, Rainey Higbee and Rosabelle Rexford

How the People of the North Slope uniquely provide Drinking Water, electricity, heat and other services in the Arctic
Traditional Eskimo Dancing
Local wildlife
A Look at how Visitors Enjoy and safely experience the Wonders of our ancient, yet modern home

Running Time Approximately: 60:00 Minutes
Special Bonus Feature for Kids
Let Me Tell You About My Home - Narrated by Frieda Kaleak
Barrow, Alaska - Our Tales to Tell is a production of Touch Alaska Interactive Media, Inc. Production support for this award-winning documentary was provided by the people of Barrow, Barrow Arctic Science Consortium (BASC), City of Barrow, Ilisagvik College, the Iñupiat Heritage Center, KBRW Radio, North Slope Borough departments, NSB ECHO Project (Education through Cultural and Historical Organizations), NSB School District as well as other organizations and supporters in Alaska and Montana. Quyanaqpak! (Thank you very much!)
Barrow, Alaska - Our Tales to Tell DVD

$15.95 + $3.75 shipping

Wholesale inquiries welcome.
Screen shots of the video's menu pages: